NEWS
Animals and pets
The most important information you need to know about monkeypox 2022
The most important information you need to know about monkeypox 2022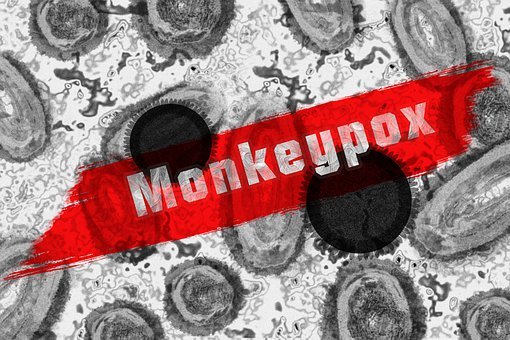 The most important information you need to know about monkeypox 2022, monkeypox is a rare disease caused by infection with the monkeypox virus, a disease similar to smallpox.
Monkeypox was first discovered in 1958 as a result of an outbreak of a smallpox-like disease among a group of monkeys dedicated to scientific research, and as a result this disease was called monkeypox, while the first case of this disease among humans was diagnosed in 1970 in the Republic of the Congo. .
https://bybnews.com/the-most-important-information-you-need-to-know-about-monkeypox-2022/
The most important information you need to know about monkeypox 2022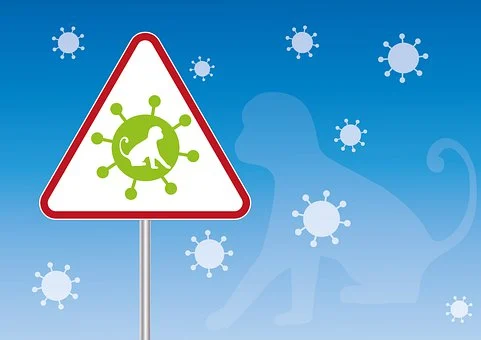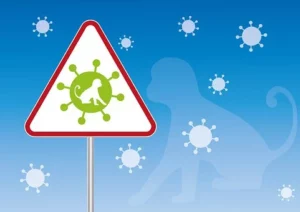 Monkeypox is mainly spread in the countries of Central and West Africa, where the disease has been recorded outside the continent of Africa only 3 times.
Types of monkeypox virus
There are two types or biological branches of monkeypox virus, which divide this virus into the following two groups:
Central African monkeypox virus, this type is characterized by causing more severe symptoms than the other type, and causing higher rates of death, and the process of transmission from one person to another through contact is documented.
West African monkeypox virus, which causes less severe symptoms than the other type, and its transmission from person to person by contact is limited.
Causes of monkeypox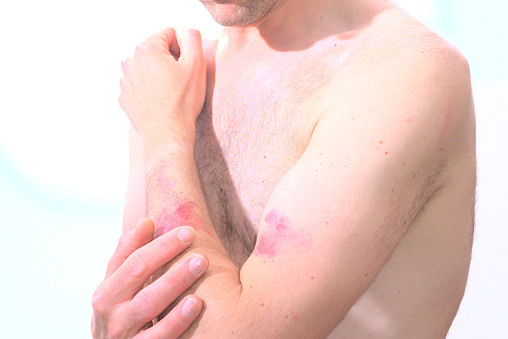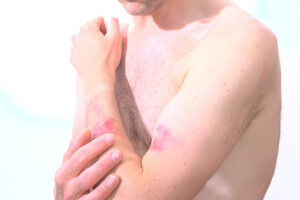 Monkeypox develops as a result of infection with monkeypox virus, a virus belonging to the family of orthopoxviruses. The natural source of monkeypox virus is still unknown, but it is believed that species of African rodents play a role in transmitting this virus.
Mechanism of the spread of monkeypox
Monkeypox spreads to humans through contact with the virus that causes them, either through
Contact with another infected person.
Contact with infected animals.
Contact with surfaces and tools contaminated with the virus.
The virus enters the body through cracked or broken skin, through the respiratory tract, or through the mucous membranes of the nose, mouth and eyes.
monkeypox symptoms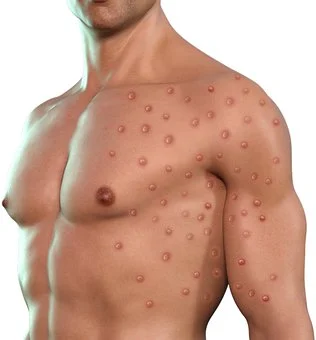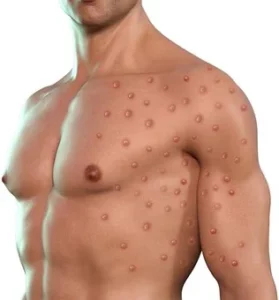 Although the symptoms of monkeypox are similar to those of smallpox, they are milder, with the only difference being swollen lymph nodes from monkeypox.
The incubation period for monkeypox virus usually ranges from 7-14 days, but it can also range from 5-21 days before the onset of symptoms, which include the following:
Fever.
a headache.
Muscle pain.
Back pain.
Swollen lymph nodes.
goosebumps.
Fatigue and exhaustion.
The rash begins to appear 1-3 days or more after the patient has a fever, which often appears on the face first, and then begins to spread to the rest of the body. The rash goes through several stages before falling off the skin. These stages include the following: :
spots
papules
vesicles
pimples
desquamation
The disease usually lasts between 2-4 weeks.
Monkeypox treatment
So far, there is no effective and safe treatment for monkeypox, but the smallpox vaccine, some antiviral drugs such as cidofovir, and others have been used, in addition to using immunoglobulin therapy to control monkeypox outbreaks.
How can monkeypox be prevented?
Adhering to certain preventative measures may help reduce or prevent monkeypox infection. These measures include:
Receiving the smallpox vaccine. It is reported that the smallpox vaccine reduces the risk of developing monkeypox.
Avoid contact with animals that may carry the monkeypox virus, which includes sick animals, or animals found dead in areas where the virus is common.
Avoid contact with any material that has come into contact with sick animals, such as bedding, clothing, etc.
Isolate patients with monkeypox from other people at risk of contracting the disease.
Practicing good hygiene after contact with infected humans or animals, such as washing hands thoroughly with soap and water, or using alcohol sterilizers.
Use personal protective equipment when caring for sick people.
What is the course of monkeypox disease?
Studies show that the death rate associated with monkeypox in Central and West Africa among people who do not enjoy good medical care may reach 10%.