Cars and Motorcycles
Changan Uni T2023 is the best in the competition
Changan Uni T2023 is the best in the competition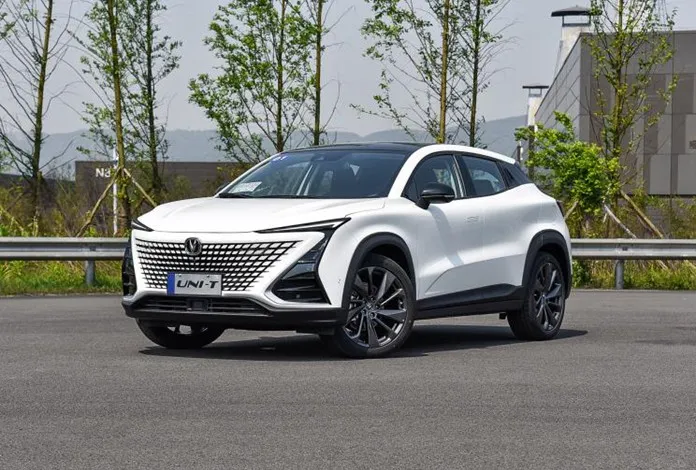 Changan Uni T2023 is the best in the competition. It has its own brilliance, which the Chinese company Changan chose to emphasize with its modern and highly dynamic exterior appearance. Moreover, the UNI T 2023 is equipped with the latest innovations and cutting edge technology and comes with all-round LED lights and sporty touches that include carbon fiber details. Fake and yellow accents, a lot of advantages that we will discuss in the next article.
https://bybnews.com/changan-uni-t2023-is-the-best-in-the-competition/
Changan Uni T2023 is the best in the competition
The chassis of this Chinese 2023 car provides aerodynamic and high agility to provide excellent insulation in its class, and it comes with an exterior design that bears a distinctive youthful identity, and it has got excellent 360 cameras, many sensors and driver assistance systems.
The design of the car from the rear is somewhat exaggerated, and it comes with 4 Exhaust exits, and it comes with a rear box that can accommodate a load capacity of 290 liters when the second row seats are folded, and the space reaches 350 liters.
This luxurious Changan youth car runs on 20-inch tires, behind which are yellow brake calipers, surrounded by German Michelin Max Contact MC6 wheels suitable for all seasons.
Changan UNI-T 2023 Engine
Changan UNI T 2023 is known for its powerful and competitive performance, so the leading brand Changan made sure to offer it with an engine that meets the following specifications:
Four-cylinder petrol engine
Capacity: 1.5 liters
Torque: 177 hp
Average fuel consumption: 17.3 km / l
Mated to a 7-speed automatic transmission
Front wheel drive system
Changan UNI T 2023 Abroad
Changan UNI T 2023 has a contemporary appearance that draws attention due to the following external features:
Huge front bumper
LED daytime running lights
Folding side mirrors
21 inch aluminum wheels
Changan UNI T 2023 inside
The interior of the car contains leather upholstery with Alcantara-like fabric and yellow touches in addition to the embroideries to look beautiful within the compact crossover category, and it contains a panoramic sunroof, and contains two screens diagonally in front of the driver's eyes, each of them measuring 10,3 inches.
Changan UNI T 2023 belongs to the family car category, and therefore it is characterized by large riding spaces that allow passengers to enjoy every trip, as well as the latest innovations and technologies that provide luxury and pleasure, most notably:
Guidance
USB connection
Bluetooth
Voice command
Excellent sound system and 12 speakers
Electric tailgate
Heated and cooled seats
Rain Sensing Wiper
Wireless Charging
Ambient Interior Lighting
Display and panorama
Changan UNI T 2023 Safety Features
Changan has equipped its popular Changan UNI T 2023 with the latest set of available safety and driver assistance features. Here are the highlights:
Lane Departure Warning
Monitor tire pressure
Stability Control
traction control
Brake Assist
Hill Assist System
collision avoidance
Daytime running lights
Changan Uni T2023 mechanical car specifications:
It relies on a 4-cylinder engine with a capacity of 1.5 liters with a turbo that generates 177 horsepower and 300 Nm of torque, and it is connected to a 7-speed double-clutch automatic transmission.
The Chinese car works with a front-wheel drive system, and it has 3 driving modes; ECO Economy, Normal, and Sport Sport, and the cost of petrol is one liter of gasoline to cover a distance of 17.3 km.
The UNI T competes with: Toyota CHR, Honda HRV, Kia Sonnet, Mazda CX30, Hyundai Creta, and Nissan Kicks.
Thus, we have come to the end of our article after we got acquainted with the Changan Uni T2023 car, the best among the competition, which can be in the list of your favorite cars par excellence.