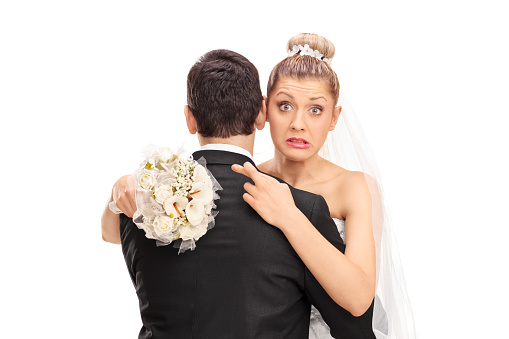 Fear of marriage (Gamophobia). You have a good relationship, you love your partner, spending time with them means the world to you…but when it comes to marriage, you panic, don't you feel ready? but why? We will let you know. Follow us.
Many young people fear marriage, but this does not mean abandoning it. According to the latest statistics, "marriage phobia" is one of the most psychological problems that affect 20% of young people. Many ask why young people refrain from getting married. In this article, we will shed light on this phobia. Or "marriage fear" or as it is called in science as "Gamophobia".
https://bybnews.com/fear-of-marriage-gamophobia/
What is the Fear of marriage (Gamophobia)?
Phobia in general is a state of fear of something that negatively affects daily life, and different schools have different interpretations of the causes of phobia. While Freud defined phobias as unconscious struggles, according to Watson, phobias depend on a conditioned reflex.
Gamophobia is considered one of the modern fears that has not been addressed and studied in detail, and therefore there are no accurate statistics on the degree of its prevalence among people, but what is agreed is that it affects young people more than women, and yet it can impede the course of personal relationships and disturb peace. life.
It can make it difficult to form relationships with others and interfere with your ability to function normally in everyday life. Marital phobia is considered like other phobias because it is characterized by fears that are not commensurate with the actual danger or threat, and these symptoms are continuous and last for six months or more.
Fear of divorce or separation is also one of the things that push some people to refrain from marriage, as about 50% of current marriages end in divorce, and these numbers make us doubt the idea of marriage.
Signs and symptoms of phobia of marriage:
Among the physical symptoms that the individual suffers from are the following: when the issue of marriage is raised;
Panic and shaky mood
Hot flashes
A feeling of suffocation
sadness
Fear of losing control
Excessive sweating
An increase in heart rate
shortness of breath
Dizziness, fainting after vertigo
What causes a fear of marriage (gamophobia)?
The reasons are briefly listed as follows:
The individual had a relationship with divorced parents, or an unstable family relationship
lack of self-confidence of the individual
Feeling of sexual inferiority in relation to the person
Incidents of physical / psychological violence that an individual is exposed to in his family between his parents
Seeing bad results, deceit and lying directly or indirectly in the relationships around him
Anxiety in the subconscious
That the person has suffered or witnessed any abuse in the past
The person who gets married feels socially and economically unfit
The individual has an unsuccessful previous marriage or serious relationship experience
The presence of people making negative statements about marriage in the person's environment
skepticism about the person who is going to marry, and the inability to trust people easily,
detail and perfection of the individual
Concern that if the parents of the person to be married are very happy, they will not be very happy.
Belief in the inadmissibility of divorce after marriage
Stress in engagement, wedding and similar events
The person who is going to get married is always looking for a better wife
Fear that the individual's life will become routine and that he will lose his freedom
Having narcissistic personality traits and not seeing anyone as worthy of themselves.
Treatment methods that can be followed:
Behavioral therapy: In this way that aims at the time and enables the person to positively influence their feelings and change their thoughts and behaviors, the person can make constructive, non-subjective, and logical decisions.
Psychotherapy: It aims to advance the steps of personal development in a way that aims to provide a solution to people's emotional problems and the state of these problems, and to protect and improve mental health.
Exposure: By exposing the person directly to the source of the problem and anxiety, by persevering in long and valuable relationships, engagement is sought to effectively ensure its continuity.